Diary of a Painter Archives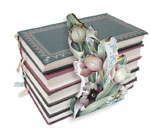 Painting is an expression of one's feelings. It can take you to another place at another time. Art comes from your heart, mind and soul. I hope you will enjoy reading My Diary of a Painter. I write periodically so I hope you will visit often My desire is for you to feel and experience the inspiration that is all around you.
Snowmen Holding Bouquets
Today was a great painting day.
It was very very cold and it snowed all afternoon.
A beautiful white day
with 5 inches of new snow.
I finished up 2 paintings I had been working on
One on a dark background and
One on a light background.
A beautiful day to stay inside
looking out the window
with a paint brush in my hand.
It is great to have some backgrounds ready to paint on.
You need to be ready when the time is right.
What a beautiful night,
The moon is full,
and everything is covered with a thick white blanket of snow.
Snowmen holding bouquets tied with white ribbons.
All the white flowers are dancing in my head.
Hollyhocks, Daisies,
Flocks, Geraniums, Lily of the Valley,
Hydrangeas, Tulips, Narcissus,
Snowdrops, Creeping Flocks, Petunias,
Mums, Carolina Jasmine,
Roses, Roses, Roses and more Roses,
Lilies, Zinnias, Asters,
Iris, Salvia,
Dogwood, Lilacs, Crepe Myrtle,
and the list goes on.
As I go to sleep tonight my imagination
will go wild as
I dream of the white flowers surrounded by soft greens
dancing all around me.

Mary Jo Leisure, January 31, 2007
---
Scroll To Top

Mary Jo Leisure
103 E. 6th St.
Pleasanton, KS 66075
Phone: (913) 352-6706
E-Mail: mjleisure@ckt.net
[ Home ] [ Shop ] [Order Status] [ Search ] [ View Cart ]
[ Shipping Terms ] [ Privacy Policy ] [ CHECKOUT ]