Diary of a Painter Archives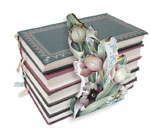 Painting is an expression of one's feelings. It can take you to another place at another time. Art comes from your heart, mind and soul. I hope you will enjoy reading My Diary of a Painter. I write periodically so I hope you will visit often My desire is for you to feel and experience the inspiration that is all around you.
A Country Auction and No. 93
Today began as any normal day and
almost immediately my day changed
when Harold reminded me
of an auction that was starting at 10 AM.
Remembering the sale bill
I decided I needed to check it out.
Off I headed to the country.
The search was on.
I was excited.
My mind began thinking creatively.
What will I find?
I will be looking beyond what I see,
searching and planning and getting ideas.
I love an old fashion auction,
particularly in the country.
After looking things over
I decided I needed a number.
93 yes 93...
There were more people there than usual.
That meant things would probably go too high for me.
I found several things I wanted to bid on.
My mind was spinning,
and of course as I waited for my items to come up for auction,
I had more time to dream and get ideas.
For some reason no one wanted the things I did.
I got the bid on everything I had wanted.
The auctioneer hollered out
over and over...
The bid goes to No. 93.
I am sure no one, no one saw what I did,
beautiful old pieces I could incorporate
into my painting,
and they would become one of a kind treasures.
My mind goes wild sometimes,
wild with excitement,
dreaming, designing.
I went home with 5 painting possibilities
and one additional treasured piece
that would bring many memories.
This one went to my garden,
a three tier black crock insulator.
One just like grandmother Leisure,
my mother-in-law,
used as a birdbath,
and now we have one just like it
to use as a bird bath,
to remind us of the one in her yard.
No. 93 got that bid for $1.00.
When I got home
I began cleaning my treasures,
getting them ready to paint or incorporate
into my painting.
By night time I was at the drawing board.
Next will come the backgrounds,
and then the painting.
I look forward to another auction,
and another number.
Maybe 93.



Mary Jo Leisure, August 18, 3007
---
Scroll To Top

Mary Jo Leisure
103 E. 6th St.
Pleasanton, KS 66075
Phone: (913) 352-6706
E-Mail: mjleisure@ckt.net
[ Home ] [ Shop ] [Order Status] [ Search ] [ View Cart ]
[ Shipping Terms ] [ Privacy Policy ] [ CHECKOUT ]