Diary of a Painter Archives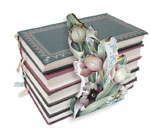 Painting is an expression of one's feelings. It can take you to another place at another time. Art comes from your heart, mind and soul. I hope you will enjoy reading My Diary of a Painter. I write periodically so I hope you will visit often My desire is for you to feel and experience the inspiration that is all around you.
No Wonder I Love Apples
It was a brisk and sunshinny morning.
with Christmas only 4 days away.
I was sipping my first cup of coffee
watching Good Morning America
and this ad came on the screen.
A beautiful ad about apples
and they were beautiful.
I hope I captured the picture in my mind.
These apples were clustered
on a tree branch,
with georgous leaves
and water drops dripping off of them.
Beautiful shapes and beautiful colors.
The sun was hitting them just right.
They were positioned in the right angle.
Their green accents were brilliant.
They could not have been more beautiful.
No wonder I love to paint apples.
Keep your eyes wide open.
You never know where your inspiration
is coming from.
Be ready to capture the moment.
No wonder I love apples.
Mary Jo Leisure, December 21, 2007
---
Scroll To Top

Mary Jo Leisure
103 E. 6th St.
Pleasanton, KS 66075
Phone: (913) 352-6706
E-Mail: mjleisure@ckt.net
[ Home ] [ Shop ] [Order Status] [ Search ] [ View Cart ]
[ Shipping Terms ] [ Privacy Policy ] [ CHECKOUT ]