Diary of a Painter Archives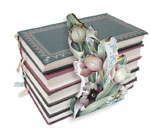 Painting is an expression of one's feelings. It can take you to another place at another time. Art comes from your heart, mind and soul. I hope you will enjoy reading My Diary of a Painter. I write periodically so I hope you will visit often My desire is for you to feel and experience the inspiration that is all around you.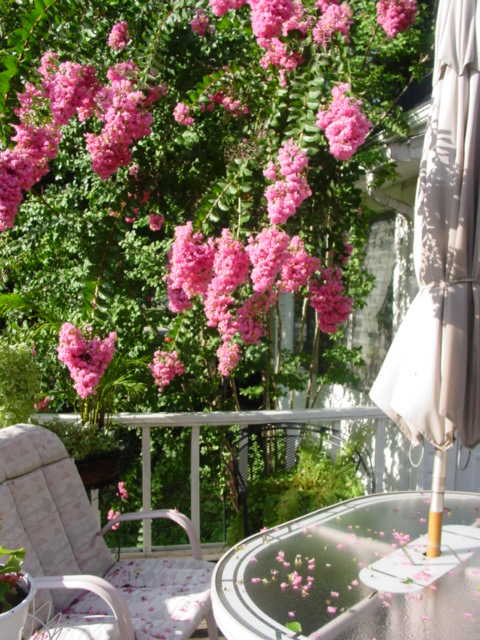 Ahhhhhhh..........
Ahhhh...what a beautiful day,
sitting on the deck,
feasting on my beautiful Crepe Myrtle
that popped out all most over night.
The blooms are as big as dinner plates.
This must be a good year.
My bush, no tree, must be 12 feet tall.
Another day....
A 3 inch rain, heavy wind
and I am sitting in my garden room
watching my Crepe Myrtle bend to the ground.
Wow...even in all this
it bends and moves gracefully.
It is right next to my windows
and hangs over the deck.
Will it stand tall again.
The blooms are so heavy with water
but still beautiful.
Another day...
We took our sandwich to the deck
and again feasted on the beautiful Pink Crepe Myrtle.
The sun sharpened its color.
So bright with the light.
I could touch the flowers from my chair
and feel their softness in the air.
The wind had covered our table
wih small pink flowers...like a carpet,
but their blooms are still
big and beautiful.
Another day...
The morning is beautiful
even with clouds rolling in.
Coffee is on the deck,
with sunshine and sprinkles on my face.
The breeze is cool and
softly moving my Crepe Myrtle.
I think of the movement
and how it has captured my eye
and how much I love that movement in a painting.
Movement is an important word when I am painting.
I see, I feel and I capture the memory.
I will be enjoying my Crepe Myrtle
all summer long.
Every day there is something to discover.
Maybe it will be discovering something I feel,
see, touch, smell
or even hear.
Thank you God for making me able to discover
all your beauty.

P.S.
It's midday and I am looking out the window.
I go outside and look again.
A new discovery.
A reflection in the window,
the window in the peak of our shed.
The Crepe Myrtle
moving gracefully
as if it is looking at itself in a mirror.
It was beautiful.
A new discovery.
I loved it.

Mary Jo Leisure, July 28, 2008
---
Scroll To Top

Mary Jo Leisure
103 E. 6th St.
Pleasanton, KS 66075
Phone: (913) 352-6706
E-Mail: mjleisure@ckt.net
[ Home ] [ Shop ] [Order Status] [ Search ] [ View Cart ]
[ Shipping Terms ] [ Privacy Policy ] [ CHECKOUT ]