Diary of a Painter Archives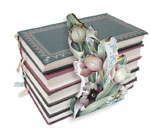 Painting is an expression of one's feelings. It can take you to another place at another time. Art comes from your heart, mind and soul. I hope you will enjoy reading My Diary of a Painter. I write periodically so I hope you will visit often My desire is for you to feel and experience the inspiration that is all around you.
Use Your Eyes, Use Your Paint, Use you Joy
It is raining.
There is something about the rain today.
I love it.
It is slow, quiet and gentle.
It is a time for
smiling,
crying,
reflecting,
reading,
singing (in my heart),
writing,
going through pictures, thinking of the past,
reaching for tomorrow,
new paintings designed
in my mind no less.
Tmes to be shared
with my immediate family,
my painting family
and my friends.
Gardens to plant, paintings to paint
sunsets and sunrises to enjoy
and fill my soul.
I can see the beauty through the rain
and through the clouds.
There is a silver lining.
Tomorrow the sun will be shining...
the iris will be blooming...
and the old fashioned spirea is ready
to pop out
on its long graceful branches.
A joy in white to behold.
What a pretty picture
with the iris standing tall
framed with the flowing white spirea
hugging tight
yet reaching beyond.
Spreading its beauty
reminding us to look around us
and capture the moment,
then preserve it.
Use your eyes, use your paint, use youy joy.
Mary Jo Leisure, May 7, 2008
---
Scroll To Top

Mary Jo Leisure
103 E. 6th St.
Pleasanton, KS 66075
Phone: (913) 352-6706
E-Mail: mjleisure@ckt.net
[ Home ] [ Shop ] [Order Status] [ Search ] [ View Cart ]
[ Shipping Terms ] [ Privacy Policy ] [ CHECKOUT ]