Diary of a Painter Archives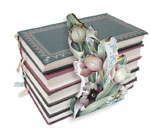 Painting is an expression of one's feelings. It can take you to another place at another time. Art comes from your heart, mind and soul. I hope you will enjoy reading My Diary of a Painter. I write periodically so I hope you will visit often My desire is for you to feel and experience the inspiration that is all around you.
Energy
Roses bloomed this past week
and are going back to gardens all over the world,
ID, CA, NJ, TX, Japan, MA,CO, VA, CT, NE, SD, MN,and OR.
Roses fashioned by the tip of the brush,
high on a hill in Eastern Kansas.
Colors blended
soft, subtel beauty,
and yet bold and dramatic.
What did they feel
when they put that bursh down to form a petal....
excitement, awe, frustration,
reaching, wanting more,
hearing, seeing, feeling.
Lost in time
building memories, building skills
to last a lifetime.
Energy filled my soul as it radiated from the classroom.
I am so grateful for the time shared with others
who love the art with feeling.
I received energy when I needed it most.
God does not always heal but
God surrounds us with the ones we need,
lifting us up, giving joy and comfort,
surrounded by the beauty of the Rose.
This was a week to remember.
Thank you, each one.
Mary Jo Leisure, October 1, 2007
---
Scroll To Top

Mary Jo Leisure
103 E. 6th St.
Pleasanton, KS 66075
Phone: (913) 352-6706
E-Mail: mjleisure@ckt.net
[ Home ] [ Shop ] [Order Status] [ Search ] [ View Cart ]
[ Shipping Terms ] [ Privacy Policy ] [ CHECKOUT ]