Diary of a Painter Archives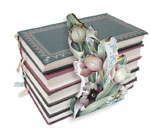 Painting is an expression of one's feelings. It can take you to another place at another time. Art comes from your heart, mind and soul. I hope you will enjoy reading My Diary of a Painter. I write periodically so I hope you will visit often My desire is for you to feel and experience the inspiration that is all around you.
I've Been Waiting and Waiting.... Where are You?
I've been waiting and waiting....
Where are you?
I'm ready for spring.
I can't find
any yellow, pink, purple or green.
It's time to wake up.
My kids in Texas are telling me
about all the blossoms
and color popping out everywhere.
Massayo sent me pictures of the
beautiful plum blossoms
in the park at Osaka Castle
in Japan.
I am still waiting...where are you?
Can you tell I am anxious.
When we wait and it doesn't come
we fill our mind with memories.
It works.
My mind's eye is full of color
something new blooming
everyday.
First it's yellow and green
and then everything breaks loose.
It's wonderful.
It is kind of like
when you try something new
you experiement, you test.,
sometimes what you want comes slow.
Be patient.
That's my word of the day.
At least it is at the top of the list.
Patience
don't give up
Prepare
Pull out the books, magazines, pictures.
Go to the nursery, buy garden seeds,
plan some new projects,
keep busy.
Pull out the paint and brushes.
I can't paint right now.
I am trying to be patient and prepare for tomorrow.
I can dream
and enjoy the beauty I love so much.
I think I will plant some grass this afternoon
in containers to grow in the house.
I can use it in arrangements
for Easter.
Maybe I will even pull out a little paint,
and try.
I don't give up....
I pray, I have faith, I trust in God.
He is in control.
Enjoy today.

Mary Jo Leisure, March 10, 2008
---
Scroll To Top

Mary Jo Leisure
103 E. 6th St.
Pleasanton, KS 66075
Phone: (913) 352-6706
E-Mail: mjleisure@ckt.net
[ Home ] [ Shop ] [Order Status] [ Search ] [ View Cart ]
[ Shipping Terms ] [ Privacy Policy ] [ CHECKOUT ]