Diary of a Painter Archives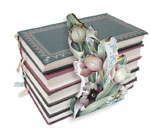 Painting is an expression of one's feelings. It can take you to another place at another time. Art comes from your heart, mind and soul. I hope you will enjoy reading My Diary of a Painter. I write periodically so I hope you will visit often My desire is for you to feel and experience the inspiration that is all around you.
Hearing the Music in My Heart and Holding the Brush in My Hand
I just finished watching the movie,
"Music of the Heart".
A true story of passion,
creating something beautiful from the heart...
music, actually violin music.
How it reminded me of
painting from the heart.
How it not only teaches us
but others, many others,
the importance of using our hearts.
As I have told my students, many times,
what makes the difference in your painting
comes from your heart.
From feeling it's passion,
its love, its sharing, its seeing,
its reaching, its giving.
Do you feel the color? Do you feel the movement?
Open the door and reach for more.
It's all there.
I went to bed hearing the music and holding the brush.
This morning I am setting on the deck
enjoying the movement of the trees,
seeing their gracefulness,
feeling their breeze,
and enjoying their color.
Warms and Cools.
Orange and burgandy, yellows and greens
and everything in between.
I am reminded of a wonderful book
my son encouraged me to read.
"Silver Boxes" by Florence Littauer.
This is a book of encouraging words.
At the very end she asks
"Do you know someone who has...
A song waiting to be sung?
Some art waiting to be hung?
A piece waiting to be played?
A scene waiting to be staged?
A tale waiting to be told?
A book waiting to be sold?
A rhyme waiting to be read?
A speech waiting to be said?
If you do, don't let them die with the music still in them."
Be encouraged and encourage others to
follow their dreams.
I am ready to read "Silver Boxes" again.
Mary Jo Leisure, October 28, 2007
---
Scroll To Top

Mary Jo Leisure
103 E. 6th St.
Pleasanton, KS 66075
Phone: (913) 352-6706
E-Mail: mjleisure@ckt.net
[ Home ] [ Shop ] [Order Status] [ Search ] [ View Cart ]
[ Shipping Terms ] [ Privacy Policy ] [ CHECKOUT ]