Diary of a Painter Archives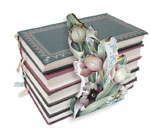 Painting is an expression of one's feelings. It can take you to another place at another time. Art comes from your heart, mind and soul. I hope you will enjoy reading My Diary of a Painter. I write periodically so I hope you will visit often My desire is for you to feel and experience the inspiration that is all around you.
Shades of White...... Oh What A Beautiful Morning
Remember the Song..................
Oh What a Beautiful Morning, Oh What a Beautiful Day
I've got a beautiful feeling
Everything's going my way.
This morning, as I looked out my window,
the clear blue sky was hugging the baren tree limbs,
all lined in thick white snow.
The color was breathtaking.
Oh, what a beautiful morning.
We had a monsterous storm last night.
Twenty-one inches of snow fell from the sky.
Today everything is white,
accept for the blue sky.
Many shades of white,
so clean, so bright and so pure.
White is more than white
Look closely and you can see almost any color.
I was anxious to go outside
to touch it and capture everying I saw with the camera.
Danny shoveled and JJ played.
My mind kept recording
White on White
and ideas came fast,
white roses, white daisies, white violets
white zinnias, white geraniums, white flocks
white poinsettias,
white grapes, and white peaches.
I closed my eyes and saw
all the beautiful tints,
God's magnificent soft, soft colors.
Today, everything came from the blanket of white
that covered the earth...
rooftops, cars, swings, wagons.
The undisturbed graceful lines
filled me with excitement,
even the shadows that fell,
every shape you could imagine.
Awesome
I wonder, I wonder
do others see all those lines and shadows.
I see many new pictures.
I thank God for the beauty around me.
I can always finds it.

A quote by Leonardo Da Vinci
"The first of all single colors is white
We shall set down
White for the
representation of light
without which no
color can be seen."

A quote by Gilbert K. Chesterson
"White is not a mere absence of color;
It is a shinning affirmative thing,
as fierce as red,
as definite as black.
God paints in many colors;
But He never paints so gorgeously as
When He paints in white"


Mary Jo Leisure, Dec. 1, 2006
---
Scroll To Top

Mary Jo Leisure
103 E. 6th St.
Pleasanton, KS 66075
Phone: (913) 352-6706
E-Mail: mjleisure@ckt.net
[ Home ] [ Shop ] [Order Status] [ Search ] [ View Cart ]
[ Shipping Terms ] [ Privacy Policy ] [ CHECKOUT ]