Diary of a Painter Archives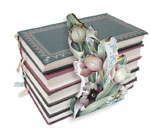 Painting is an expression of one's feelings. It can take you to another place at another time. Art comes from your heart, mind and soul. I hope you will enjoy reading My Diary of a Painter. I write periodically so I hope you will visit often My desire is for you to feel and experience the inspiration that is all around you.
The White Gerber Daisy
Today I saw a White Gerber Daisy,
that took my breath away.
It was a silk Gerber Daisy,
potted so beautifully,
as if it had been transplanted
from the garden.
When I arrived home
UPS had left a box of treasures.
Among the treasures
a book
titled
"The Meaning of Flowers"
Myths, Lanuage and Lore.
This evening I snuggled in
with a cup of hot tea,
and my new book.
To my joy on page 23...
The Gerber Daisy.
I was not surprised when the first sentence read...
"The Gerber Daisy suggests enduring purity".
In my memory
I again saw the beautiful White Gerber Daisy
so inbedded in my mind earlier today.
Now I know
I must return to the quaint little shop with the
White Gerber Daisy.
What a beautiful and meaningful accent it will be
to my painting...
"The White Gerber Daisy",
just as soon as my arm
allows me to paint.

Mary Jo Leisure, May 17, 2008
---
Scroll To Top

Mary Jo Leisure
103 E. 6th St.
Pleasanton, KS 66075
Phone: (913) 352-6706
E-Mail: mjleisure@ckt.net
[ Home ] [ Shop ] [Order Status] [ Search ] [ View Cart ]
[ Shipping Terms ] [ Privacy Policy ] [ CHECKOUT ]