Diary of a Painter Archives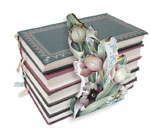 Painting is an expression of one's feelings. It can take you to another place at another time. Art comes from your heart, mind and soul. I hope you will enjoy reading My Diary of a Painter. I write periodically so I hope you will visit often My desire is for you to feel and experience the inspiration that is all around you.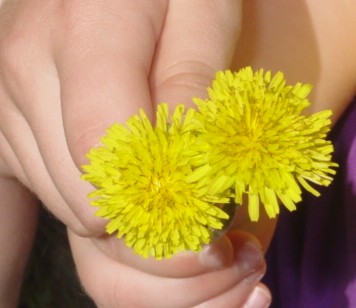 The Field of Dandelions
(Emily and Lauren holding a gift for their Nana)

I was out for a day of inspiration.
One block before the
Antique Garden Show
in Greenwood, Mo.
I stopped in awe
of a vacant lot.
A carpet of dandelions.
I've never seen this many dandelions in the same place
in my whole life.
WOW!!
Yellow,
More and more yellow.
My memory went back to a little hand
bringing me a flower
of the most beautiful yellow
with a big smile and big bright shining eyes.
A special moment in my life.
Now here is this yellow again..
Memories spun.
Maybe that is why I love yellow.
Today little hands
bring her flowers
of the most beautiful yellow,
with a big smile and bright shining eyes.
And the tradition will continue.
I want to capture that beauty
if only with yellow and memories of a lifetime.
My inspiration...
The field of dandelions.
Mary Jo Leisure, May 4, 2009
---
Scroll To Top

Mary Jo Leisure
103 E. 6th St.
Pleasanton, KS 66075
Phone: (913) 352-6706
E-Mail: mjleisure@ckt.net
[ Home ] [ Shop ] [Order Status] [ Search ] [ View Cart ]
[ Shipping Terms ] [ Privacy Policy ] [ CHECKOUT ]