Diary of a Painter Archives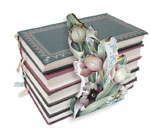 Painting is an expression of one's feelings. It can take you to another place at another time. Art comes from your heart, mind and soul. I hope you will enjoy reading My Diary of a Painter. I write periodically so I hope you will visit often My desire is for you to feel and experience the inspiration that is all around you.
I Heard the Song but I Felt the Music
It is eleven days into the New Year
2007 seems unreal
Moving from the 1900's to 2000 always seemed so far away
for so many years
and now it is already 2007.
It is cold and dreary
but it is also January in Kansas.
There were beautiful Red Birds
around our bird feeders yesterday.
Maybe I need to paint some of these beautiful birds.
And the squirrels... They are all over the trees in our yard.
They jump from branch to branch
and scare our birds away.
I wish they would just dance and play.
January encourages me
to turn the music on... to read...
to watch a heart warming movie ... to think ... to ponder
and to write my thoughts...
and always have my pencil and paper nearby.
I walked in to a store today
and in front of me was two racks of seeds.
Seeds to plan this years garden
2007
I had to touch and look and see and plan.
Beautiful colors and shapes
Some I knew and some I didn't.
I read a wonderful quote this week,
"It is not what you look at that matters,
It's what you see"
by Henry David Thoreau.
As I think about listening to the music and reading a book,
my thoughts become deeper.
I listened to the song
But I felt the music.
I read the words
But I experienced the story.
I looked at the seeds
But I saw their beauty.
It is my strong desire to help my students experience the excitement
of truly learning to see.
January opens the door for the New Year.
I am ready to experience the journey.


January 11, 2007, Mary Jo Leisure
---
Scroll To Top

Mary Jo Leisure
103 E. 6th St.
Pleasanton, KS 66075
Phone: (913) 352-6706
E-Mail: mjleisure@ckt.net
[ Home ] [ Shop ] [Order Status] [ Search ] [ View Cart ]
[ Shipping Terms ] [ Privacy Policy ] [ CHECKOUT ]