Diary of a Painter Archives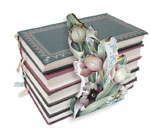 Painting is an expression of one's feelings. It can take you to another place at another time. Art comes from your heart, mind and soul. I hope you will enjoy reading My Diary of a Painter. I write periodically so I hope you will visit often My desire is for you to feel and experience the inspiration that is all around you.
It's Cold, It's Very Cold, It's Winter
It's cold, it's very cold, it's winter.
It's icy, it's slick,
and Christmas is coming.Cold, icy, Christmas...
a great stimulation for me to be creative,design, paint, etc.
With a pot of soup on the stove,
coffee in the coffee pot,
and Christmas music in the background,
I am ready to paint.
This time of year my mind goes wandering to
Snowmen and roses,
Sleds and roses,
Mittens and roses,
Stocking caps and roses,
Santa faces and roses,
Sleigh bells and roses,
Holly and roses,
Angels and roses.
White roses of course
but maybe a tinge of red here and there.
Can't you just see that snowman with a tall skinny black top hat
circled with a ban of white roses
dripping down his back.
I think I am ready to paint.
White roses keep my heart warm all winter long.
Like a white fuzzy scarf hugging me.
Perhaps like white petals wrapping around one
embracing and hugging
the beautiful white rose.
I love to see with my minds eye.
The feeling is beyond anything I can explain,
It is warm, inviting,
and leads me to the paint brush
to capture the feeling,
and thank God for the vision.
Mary Jo Leisure, December 9, 2007
---
Scroll To Top

Mary Jo Leisure
103 E. 6th St.
Pleasanton, KS 66075
Phone: (913) 352-6706
E-Mail: mjleisure@ckt.net
[ Home ] [ Shop ] [Order Status] [ Search ] [ View Cart ]
[ Shipping Terms ] [ Privacy Policy ] [ CHECKOUT ]