Diary of a Painter Archives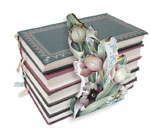 Painting is an expression of one's feelings. It can take you to another place at another time. Art comes from your heart, mind and soul. I hope you will enjoy reading My Diary of a Painter. I write periodically so I hope you will visit often My desire is for you to feel and experience the inspiration that is all around you.
Gathered in Another World
I reflect with fond memories
of last week teaching in Indiana
in Cheri Rol's Studio.
There was a major snow storm that affected everyone's travel.
However, when we had all arrived safely
we were gathered in another world.....
A world of painting.
With snow on the ground
and a studio with a wall of windows
we watched the deer saunter by everyday.
They were close enough
to be studying us as well.
We were not painting deer,
but, I can assure you it was stimulating
to see such beauty out those windows.
Every morning at breakfast
Cheri and I enjoyed watching the birds
as we looked out the windows
that surrounded the breakfast room.
As I close my eyes
I see very clearly the colorful redbirds,
woodpeckers, and even blue birds
sitting on the snow covered rail
eating their bird seed
paying no attention to us.
What a wonderful way
for a painter to begin the day.
Each day the classroom was filled with creative energy.
The paintings blossomed and came alive.
The students encouraged one another.
Individual interpretation stood out.
The week passed far too fast.
As my dear friend, Ann Emerson, and I
headed back to Kansas
We never stopped talking.
Painter's share themselves with one another.
As we drove we thought of each one
we had spent the week with,
as they were also headed home, back to their world....
Japan, Canada, New Hampshire,
Massachusetts, Texas, California,
Ohio, Indiana, Kentucky and Florida.
Decorative Painting has brought us together
from all over the world.
I am so grateful to be apart
of this painting world.
We touch one another not only with the paint brush
but with our hearts.


Mary Jo Leisure, February 24, 2007
---
Scroll To Top

Mary Jo Leisure
103 E. 6th St.
Pleasanton, KS 66075
Phone: (913) 352-6706
E-Mail: mjleisure@ckt.net
[ Home ] [ Shop ] [Order Status] [ Search ] [ View Cart ]
[ Shipping Terms ] [ Privacy Policy ] [ CHECKOUT ]