Diary of a Painter Archives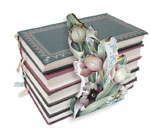 Painting is an expression of one's feelings. It can take you to another place at another time. Art comes from your heart, mind and soul. I hope you will enjoy reading My Diary of a Painter. I write periodically so I hope you will visit often My desire is for you to feel and experience the inspiration that is all around you.
When You Can't, God Can
I woke up this morning
to the singing of a million birds.
It was obvious they were so happy.
The sun wasn't up
and it wasn't very warm,
but that did not stop their singing.
They were ready for a new day.
By the time I got up I had heard the symphony
and I was ready to fill my soul with the day.
The gentle rain through the night
had given all the flowers a drink
and the grass had grown 2 inches.
That is the way spring says hello in Kansas.
I walked out to see my living wall bed
filled with pink geraniums
and purple petunias.
They were just planted yesterday.
I can visualize how beautiful this bed will be
all summer.
Thank you Ann.
That is the prettiest May Basket I have ever received.
I believe it is time to paint a May Basket,
if only in my mind.
The ideas are soaring.
Somehow the colors need to be pinks and purples.
It is so frustrating when you
love to have your hands in the dirt
and can't
and in the paint
and can't.
Then God puts friends in your path who can.
Mary Jo Leisure, April 27, 2008
---
Scroll To Top

Mary Jo Leisure
103 E. 6th St.
Pleasanton, KS 66075
Phone: (913) 352-6706
E-Mail: mjleisure@ckt.net
[ Home ] [ Shop ] [Order Status] [ Search ] [ View Cart ]
[ Shipping Terms ] [ Privacy Policy ] [ CHECKOUT ]