Diary of a Painter Archives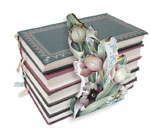 Painting is an expression of one's feelings. It can take you to another place at another time. Art comes from your heart, mind and soul. I hope you will enjoy reading My Diary of a Painter. I write periodically so I hope you will visit often My desire is for you to feel and experience the inspiration that is all around you.
Years Pass...Times Change...Love Remains
Oh, what a beautiful morning.
I am enjoying setting in the swing
enjoying the soft cool breeze
touching my face,
smelling the freshly cut lawn,
with a book in my hand.
The birds are singing and
there are firecrackers
going off in the distance.
The smells, the breeze and the sounds
all take me back to another time.
My children growing up,
lots of activity, picnics, family,
plenty of ice tea, lemonade and homemade ice cream.
Years pass...times change...love remains...
Today is still a beautiful day.
Memories just become a part of it.
My heart if full of gratitude, hope and joy
looking forward to tomorrow,
with health and the excitement of each new day.
How can I depict all my feelings?
How can we touch others around us
to feel the joy?
I thank God for giving me the
gift of seeing beauty all around,
and especially capturing it with my paint brush
in a very special decorative flair.
"Everything works together for the good
of those who love the Lord".
WOW!!
It's time to go out and fill the day
with hope and joy
for tomorrow.
Mary Jo Leisure, July 4, 2008
---
Scroll To Top

Mary Jo Leisure
103 E. 6th St.
Pleasanton, KS 66075
Phone: (913) 352-6706
E-Mail: mjleisure@ckt.net
[ Home ] [ Shop ] [Order Status] [ Search ] [ View Cart ]
[ Shipping Terms ] [ Privacy Policy ] [ CHECKOUT ]