Diary of a Painter Archives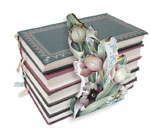 Painting is an expression of one's feelings. It can take you to another place at another time. Art comes from your heart, mind and soul. I hope you will enjoy reading My Diary of a Painter. I write periodically so I hope you will visit often My desire is for you to feel and experience the inspiration that is all around you.
Sweet Dreams
Tonight the sky exploded
into something beautiful.
It is 10:30 PM
and I was drawn outside
and couldn't come back in
just taking in the beauty of the clouds, the moon
and the stars,
against the lighted sky.
I saw shadows, reflections, intensities, shapes
and subtle beauty.
A striking, dramatic sky.
The breeze was cool, no humidity.
Just a wonderful, feel good feeling.
I could have sat in the swing on the porch for hours.
The sounds of night surrounding me.
Lost and founds were all over the place.
The stars and the clouds
were dancing around the moon.
Thank you God for drawing me close to your beauty.
Sweet Dreams.
Mary Jo Leisure, August 22, 2007
---
Scroll To Top

Mary Jo Leisure
103 E. 6th St.
Pleasanton, KS 66075
Phone: (913) 352-6706
E-Mail: mjleisure@ckt.net
[ Home ] [ Shop ] [Order Status] [ Search ] [ View Cart ]
[ Shipping Terms ] [ Privacy Policy ] [ CHECKOUT ]