Diary of a Painter Archives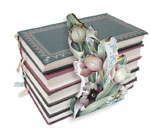 Painting is an expression of one's feelings. It can take you to another place at another time. Art comes from your heart, mind and soul. I hope you will enjoy reading My Diary of a Painter. I write periodically so I hope you will visit often My desire is for you to feel and experience the inspiration that is all around you.
It's Not What You Look at That Matters but What You See
For the last month
I have made many trips to Kansas City.
I have a regular route I take
down into the Plaza,
just so I can see one particular tree.
The sight of it alone will brighten my moment,
give me strength, encouragement
and a wonderful sense of peace.
It is tall, strong, with splotchy white bark.
Some days the white trunk and limbs
are brighter than anything you can imagine,
whether they reach into the powder blue sky
or even the stormy gray clouds.
The limbs reach out in all their beauty and strength,
ready to gather me up into another place.
They impower me, fulfill me.
I hear God whisper my name
when I feel the movement of those wonderful lines.
What a joy it is to see, feel, and experience God's beauty.
Oh how I want my paintings to have feeling,
to tell a story, to leave footprints,
and express my joy.
Oh how I would like to paint that tree.
I know I will...It may not look like a tree
but the lines, movement and color
will be there with all my memories.
"It's not what you look at that matters but what you see"

Mary Jo Leisure, February 5, 2007
---
Scroll To Top

Mary Jo Leisure
103 E. 6th St.
Pleasanton, KS 66075
Phone: (913) 352-6706
E-Mail: mjleisure@ckt.net
[ Home ] [ Shop ] [Order Status] [ Search ] [ View Cart ]
[ Shipping Terms ] [ Privacy Policy ] [ CHECKOUT ]