Diary of a Painter Archives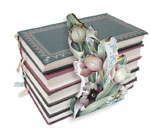 Painting is an expression of one's feelings. It can take you to another place at another time. Art comes from your heart, mind and soul. I hope you will enjoy reading My Diary of a Painter. I write periodically so I hope you will visit often My desire is for you to feel and experience the inspiration that is all around you.
Today is a New Day
Today is a new day.
It is January 5, 2008.
It is a beautiful day.
Sun is shinning and warmer than it has been.
It just feels good.
Things that aren't so good I will but in the backgound,
for awhile anyway.
Yesterday we began again our regular trips to KC.
It was a cold and dreary day.
But, today is a new day.
I have a new book,
"Garden Style, Bringing the Outdoor In"
by Mary Wynn Ryan.
Perfect for this time of year.
Thank you Dave and Amy.
It is stimulating and inspiring.
Ideas are soaring.
I may not be able to paint for awhile,
but I am capturing every idea I can.
It may be a garden fabric,
a green plant or cut flowers,
beautiful lighting,
a lamp , a pillow, a book,
family pictures, with paintings all around,
accenting all the beauty,
memories and treasures,
with time to enjoy.
I've always been a dreamer.
I remember hearing my grandad Chub saying,
"there she is again swinging on the gate dreaming."
I think that was the beginning
of using my mind's eye,
only I didn't know it.
But, I remember,
swinging on the garden gate
and looking at the clouds.
That is where you see the silver linings,
and the beautiful sunrises and sunsets.
They draw you closer to heaven.
I need to paint a sunset, a silver lining,
a beautiful sunrise.
Why not.
If even in my minds eye.
Mary Jo Leisure January 5, 2008
---
Scroll To Top

Mary Jo Leisure
103 E. 6th St.
Pleasanton, KS 66075
Phone: (913) 352-6706
E-Mail: mjleisure@ckt.net
[ Home ] [ Shop ] [Order Status] [ Search ] [ View Cart ]
[ Shipping Terms ] [ Privacy Policy ] [ CHECKOUT ]