Diary of a Painter Archives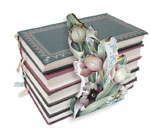 Painting is an expression of one's feelings. It can take you to another place at another time. Art comes from your heart, mind and soul. I hope you will enjoy reading My Diary of a Painter. I write periodically so I hope you will visit often My desire is for you to feel and experience the inspiration that is all around you.
Thank You Tulsa Town Tolers
The birds are gathered around the birdfeeder.
The squirrels are teasing them
and I wish they didn't.
Two beautiful light brown doves
are eating off the ground.
They like their privacy.
There are puddles of water
all over the yard
from a slow rain that fell throughout the night.
The robins like to shake their feathers in the puddles.
The rain has brought more green.
There are so many shades.
It would be fun just to paint something monochromatic.
It is warm and comfy and good to be home.
My feelings are running over.
The sights, sounds, and smells of spring
are all around us.
There were times we thought spring might pass us by.
As I look toward tomorrow
my spirits are lifted.
A week-end of teaching is coming up.
With stressful times around me
the fear of painting and teaching others
also surrounds me.
The time came
My dear friends Gretchen and Eugene
made it possible
by coming and picking me up, driving me to
and bring me home from Tulsa
so I could sleep.
Then a good nights rest in their beautiful home
nestled in the woods outside of Claremore, OK
I was ready to meet a new day.
The minute I picked up my brush
I felt comfort.
The sharing and the touch of the paint
is mesmerizing.
The large class of Tulsa Town Tolers were
so enthusiastic, so encouraging,
so excited about painting,
so happy, so kind and so ready to paint.
God knew what I needed
Why did I doubt?
He gives us gifts to use and to share.
Decoative Painters lift one another up
with their joy.
The little T Table and the Day of Roses
will always hold beautiful memories for me
and I hope for them as well.
Thank you Tulsa Town Tolers
for the memories.



Mary Jo Leisure, May 1, 2007
---
Scroll To Top

Mary Jo Leisure
103 E. 6th St.
Pleasanton, KS 66075
Phone: (913) 352-6706
E-Mail: mjleisure@ckt.net
[ Home ] [ Shop ] [Order Status] [ Search ] [ View Cart ]
[ Shipping Terms ] [ Privacy Policy ] [ CHECKOUT ]