Artist's Biography
Mary Jo grew up daydreaming, swinging on her grandmother's farmyard gate, watching the clouds, smelling the flowers, designing and remaking everything. Drawing, designing, and painting have always been a part of her life.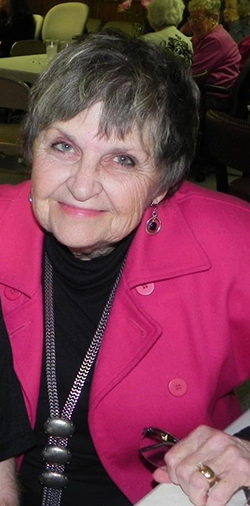 She has spent the last 55 years of her life totally involved in Decorative Painting. Her teaching career began in 1960 when her neighbors encouraged her to teach them what she was doing.

In 1972 she was one of 22 who gathered at the request of Priscilla Hauser to form an organization for Decorative Painters. The National Society of Tole and Decorative Painters was born at that meeting and is now known as the Society of Decorative Painters, SDP. She served on the board of Directors from 1973 to 1993 with the responsibilities of 1st Vice President, Executive Secretary and Editor of the Decorative Painter. She now holds the title of Editor Emeritus. In 1973 she was also awarded the Certification of Master Teacher which was later changed to Master Decorative Artist, MDA. She also received the first Silver Palette awarded by the SDP in 1978.
Mary Jo and Peggy Hobbs were co-owners of the Village Tole House in Arlington, Texas for 16 years until it burned. In 1983 she and her husband built Cedar Crest Country Studio of Decorative Art in the beautiful rolling hills of Eastern Kansas outside of Pleasanton, KS.. Their home was designed for painters to live with them a week at a time and study. In 2000 they sold Cedar Crest and moved to town. She still continues teaching Seminars at Cedar Crest.

Over the years Mary Jo has traveled extensively throughout the world teaching and sharing her distinctive style of this beautiful art form. Her medium is oils. She is known for her love of flowers, particularly roses, and enjoys painting combinations of fruits and flowers. Her designs and paintings are highly recognizable. She has authored more than 30 books, and 3 videos designed for the Decorative Artist.
She loves spending time with her family, particularly her grandchildren and little great-granddaughter. Working in her church and serving the Lord is very important to her.

She loves to read, spend time in her gardens, cook, and entertain. You will hear her say �what a treasure the art is because of the many lives that have been touched sharing the beauty of color and design together.�

Mary Jo Leisure
103 E. 6th St.
Pleasanton, KS 66075
Phone: (913) 352-6706
E-Mail: mjleisure@ckt.net
[ Home ] [ Shop ] [Order Status] [ Search ] [ View Cart ]
[ Shipping Terms ] [ Privacy Policy ] [ CHECKOUT ]