Events and Seminars
I have been involved in the world of decorative painting since 1960 as a teacher, designer, author, lecturer, etc. I have loved the journey and continue to design,paint, write, teach and be apart of many aspects of the decorative painting world. I hope you will choose to follow me as my journey continues.
My Grapevine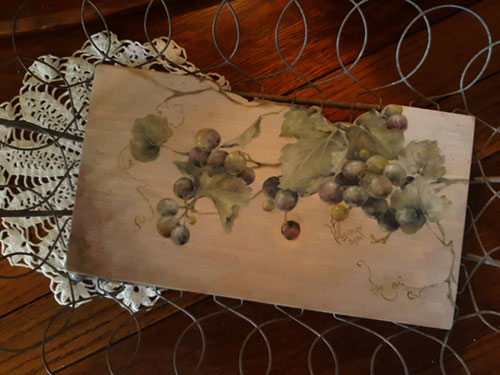 Oil Painting Expressions Session 8 launched on March 1, 2021. "My Grapevine" is the project I am teaching in this series. If you have not joined an online class yet I would like to encourage you to this exciting experience. It is a great opportunity to study with 8 excellent teachers and you can go back again and again as many times as you want...watch the video .... study specific areas of difficulty until Feb 1. 2021. Wonderful projects, but best of all are the great learning techniques to help you build your skills. Check the following link for more information. Ask questions. Would love to have you join us.
New to Oils? Oil Painting Expressions makes it easy to learn! Watch and paint along with the short tutorials in the Oil Basics Brush Ups Series, included in your subscription, covering topics like surface preparation, blending, leaves, flower petals, shapes, gold leafing, varnishing, and much more. Already an accomplished oil painter? Then you can pick up some valuable oil techniques to add to your skillset.
www.oilpaintingexpressions.com

Mary Jo Leisure
103 E. 6th St.
Pleasanton, KS 66075
Phone: (913) 352-6706
E-Mail: mjleisure@ckt.net
[ Home ] [ Shop ] [Order Status] [ Search ] [ View Cart ]
[ Shipping Terms ] [ Privacy Policy ] [ CHECKOUT ]