Diary of a Painter Archives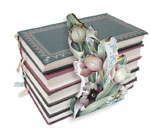 Painting is an expression of one's feelings. It can take you to another place at another time. Art comes from your heart, mind and soul. I hope you will enjoy reading My Diary of a Painter. I write periodically so I hope you will visit often My desire is for you to feel and experience the inspiration that is all around you.
The Dirt, The Breeze, The Desire
What a beautiful morning!
As I drink my 2nd cup of coffee looking out the window,
Overlooking my garden, I see the
Movement of the trees;
I hear the breeze as it passes by
And excitement soars.
I can't wait this morning, to get out
and get my hands in the dirt,
And feel the movement of the breeze;
And I already have backgrounds ready to paint upon
This afternoon.
I am not sure of the design, I am not sure of the colors,
But I am sure of my desire.
I will know when I get started..
Every day I learn to see a little more. I am always
Telling my students……
"If you can see it you can paint it".
Having a positive attitude and developing
Your skill of seeing is a real asset for a creative person.
I am ready to discover the day.
Thank you God for that desire.
Mary Jo Leisure, June 15, 2006
---
Scroll To Top

Mary Jo Leisure
103 E. 6th St.
Pleasanton, KS 66075
Phone: (913) 352-6706
E-Mail: mjleisure@ckt.net
[ Home ] [ Shop ] [Order Status] [ Search ] [ View Cart ]
[ Shipping Terms ] [ Privacy Policy ] [ CHECKOUT ]