Diary of a Painter Archives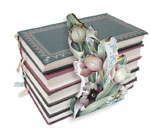 Painting is an expression of one's feelings. It can take you to another place at another time. Art comes from your heart, mind and soul. I hope you will enjoy reading My Diary of a Painter. I write periodically so I hope you will visit often My desire is for you to feel and experience the inspiration that is all around you.
My White Washed Tree
I felt a strange feeling today.
The sun was shining,
but it felt like a dreary day.
As I drove down the Boulevard the
trees were all standing in a row
gray and lifeless having lost all of their leaves.
They seemed to be taking a long winter's nap.
There was still snow on the ground here and there.
I loved the touches of white.
Just a little further to drive and I knew
my feeling would change.
There in the distance I saw the branches of my tree,
all stretched out, big, powerful, and
strong.
The one I drive this way to see.
Even with its leaves all gone
I felt the beauty of its arms,
clean white washed branches
looking as if God
had brushed them with white paint.
They were white as snow
with little bits of gray, brown and black bark
peeking out here and there.
Actually the color was accenting the beautiful
bright whites.
A striking picture with browns, black and white and a splash of blue.
So much around us affects the way we feel,
when we really look to see;
The values, colors, intensities,
and combinations of it all.
How important it is not to only see what's there
but to feel what we see,
use what we see,
and share what we see.

mary Jo Leisure, January 24, 2008
---
Scroll To Top

Mary Jo Leisure
103 E. 6th St.
Pleasanton, KS 66075
Phone: (913) 352-6706
E-Mail: mjleisure@ckt.net
[ Home ] [ Shop ] [Order Status] [ Search ] [ View Cart ]
[ Shipping Terms ] [ Privacy Policy ] [ CHECKOUT ]