Diary of a Painter Archives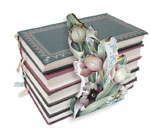 Painting is an expression of one's feelings. It can take you to another place at another time. Art comes from your heart, mind and soul. I hope you will enjoy reading My Diary of a Painter. I write periodically so I hope you will visit often My desire is for you to feel and experience the inspiration that is all around you.
Remembering...Planning, Building and Sharing
We recently tok a trip
A week-end trip
Left Friday, home on Sunday.
This trip had been cancelled numerous time
because of illness.
It was very special
because we finally made it to see
our son Dave and his wife Amy's new property in Arkansas.
It was July and hot but wonderful.
I didn't know Arkansas was so beautiful.
Forty acres tucked in the hills (mountains)
with five benches (that's what they call them)
Diffenent levels divided by large, no huge
absolutely gorgeous rocks.
They named one Jonah it was soooooo big.
Harold stayed at the campsite
and I grabbed my walking sticks
and with Dave and Amy as my guide
we were off.
Flowers I had never seen and
trees I did not know.
The sound of birds leading our way.
God created the heavens and the earth.
I could not begin to count
all the Dogwood trees.
You can find me there next spring
and I definitely will be painting
Dogwood.
Dave says the color in the fall is indescribable.
I need to paint a landscape.
October is the time.
Everything I see makes me want
to paint, draw, design
capture the moment.
Dave and Amy are planning
three building phases.
The first a small room structure,
a cabin in the woods,
a shelter when they are there from Texas
working and planning the next step.
The first little one room structure
will eventually be a creative getaway.
I can feel myself there
surrounded by the wonderful woods,
singing the song my grandmother sang to me,
Poor Babes In The Woods.
The next structure a small cottage
and the third their home.
It reminded me of a time 35 years ago
when we bought the land Cedar Crest is built on.
I designed a place, our home, with Harold encouraging me,
where painters coud gather and live with us
for a week at a time and study.
Planning , Building and Sharing
high on a hill on the most beautiful crest in Linn County,
Cedar Crest Country Studio of Decorative Art.
And now
Dave and Amy are
Planning, Building and Sharing
their future.
What a wonderful week-end
added to our most treasured memories.




Mary Jo Leisure, August 18, 2007
---
Scroll To Top

Mary Jo Leisure
103 E. 6th St.
Pleasanton, KS 66075
Phone: (913) 352-6706
E-Mail: mjleisure@ckt.net
[ Home ] [ Shop ] [Order Status] [ Search ] [ View Cart ]
[ Shipping Terms ] [ Privacy Policy ] [ CHECKOUT ]