Diary of a Painter Archives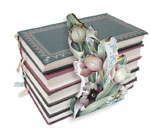 Painting is an expression of one's feelings. It can take you to another place at another time. Art comes from your heart, mind and soul. I hope you will enjoy reading My Diary of a Painter. I write periodically so I hope you will visit often My desire is for you to feel and experience the inspiration that is all around you.
Setting in the Swing Enjoying the Stars
Today was Sunday,
Graduation day,
a beautiful Lord's day.
Tonight is a beautiful night,
stars fill the heavens,
strikingly beautiful.
The dark makes the light lighter and brighter.
How many times have I said that
when I was teaching.
The contrast
holds your attention.
I just feel like I am going to explode
it is so beautiful.
Setting in the swing
enjoying the stars,
with the night sounds all around me.
The frogs, the crickets, the rustling of the leaves,
dogs barking in the background,
and a train whistle coming closer.
How could you not like a painting
on a dark backgound.
The contrasts, the drama, the excitement.
Maybe just black and white,
gray tones with subtle color....or no color at all.
I think I see it all in my minds eye.
It is worth a try.
I may sketch a little tonight
and then take another look in the morning.
Mary Jo Leisure, May 20, 2007
---
Scroll To Top

Mary Jo Leisure
103 E. 6th St.
Pleasanton, KS 66075
Phone: (913) 352-6706
E-Mail: mjleisure@ckt.net
[ Home ] [ Shop ] [Order Status] [ Search ] [ View Cart ]
[ Shipping Terms ] [ Privacy Policy ] [ CHECKOUT ]