Diary of a Painter Archives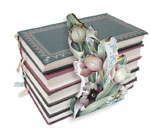 Painting is an expression of one's feelings. It can take you to another place at another time. Art comes from your heart, mind and soul. I hope you will enjoy reading My Diary of a Painter. I write periodically so I hope you will visit often My desire is for you to feel and experience the inspiration that is all around you.
This Was an Awesome Day
Again the heavens are opening up waterdrops,
like a downpour everywhere.
No, my yard has become a lake.
The sky is gray, white, black and blue
Sunshine where are you.
My minds eye sees Joan Johnson's
lobster dipped the the water pot.
Have you ever tried to paint that many water drops
hundreds....beautiful.
WOW!
This year April showers have come in May
This was an awesome day.
As we drove to Kansas City
In an out of the downpours
we found ourselves surrounded
by lots of water and the gorgeous green landscape.
The hills were alive with a striking
green velvet carpet.
The trees recovering from the April freeze.
When the sky changed colors
the green changed colors.
Sometimes more blue, sometimes more yellow.
The intensity popped in and out.
I thank God for opening my eyes
to see the beauty through all circumstances.
This was an awesome day.
No wonder I love green so much.
It certainly is the symbol of life.
The next background color I use will be green.
Probably soft and mellow,
maybe dark and rich.
Many choices and many ideas.
Rain and warm temperatures will bring much more.
Many colors, shapes and sounds,
flowers, birds, vegetables, smells,
swinging on the front porch,
walking hand in hand,
feeling the breeze on your face,
touching and smelling the rose.
Lives blossom.
Thank you God for the water drops,
for the gift of life,
for the green that surrounds us
and the joy and excitement
of sharing it.

Mary Jo Leisure, May 7,2007
---
Scroll To Top

Mary Jo Leisure
103 E. 6th St.
Pleasanton, KS 66075
Phone: (913) 352-6706
E-Mail: mjleisure@ckt.net
[ Home ] [ Shop ] [Order Status] [ Search ] [ View Cart ]
[ Shipping Terms ] [ Privacy Policy ] [ CHECKOUT ]