Diary of a Painter Archives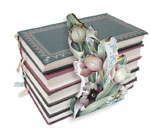 Painting is an expression of one's feelings. It can take you to another place at another time. Art comes from your heart, mind and soul. I hope you will enjoy reading My Diary of a Painter. I write periodically so I hope you will visit often My desire is for you to feel and experience the inspiration that is all around you.
I Took Spring Into My House Today
"Today is the day the Lord hath made let us rejoice
and be glad in it"
Some days it is hard to rejoice
even though I know each day is a precious gift.
So, I remind mtself of this verse.
But, today is a beautiful day and I am rejoicing.
The sun is shining and
the Yellows in my garden are vibrant.
It is about 53 degrees
no breeze
just quiet comfort
touched by the songs of the birds.
I walked around the yard,
wishing
I could pull some weeds or plant some seeds.
I promise to protect my right arm,
but my doctor says not yet.
My sweet friend, Donna, cleaned my front flower bed
a few days ago.
It lifted my spirits so.
I see the Bradford Pear trees across the way
totally dressed in White blossoms
ready for the day.
I gathered a pretty bouquet
of daffodils, forsythia, and bridal wreath
to take spring into my house today.
What a pretty picture it made
on the table in my garden room.
It was framed by the outside
from the windows all around it.
I could touch it, feel it,
and look at it from every direction.
I could even use my imagination
to see what this painter might design.
I am thinking unique and one of a kind.
Gathering ideas
from out of the blue
and I will throw nothing away until I am through.

Mary Jo Leisure, April 14, 2008
---
Scroll To Top

Mary Jo Leisure
103 E. 6th St.
Pleasanton, KS 66075
Phone: (913) 352-6706
E-Mail: mjleisure@ckt.net
[ Home ] [ Shop ] [Order Status] [ Search ] [ View Cart ]
[ Shipping Terms ] [ Privacy Policy ] [ CHECKOUT ]