Diary of a Painter Archives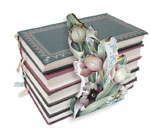 Painting is an expression of one's feelings. It can take you to another place at another time. Art comes from your heart, mind and soul. I hope you will enjoy reading My Diary of a Painter. I write periodically so I hope you will visit often My desire is for you to feel and experience the inspiration that is all around you.
Today I Was Supposed To See Pink
What will catch my eye today,
as I again travel to the Plaza.
It didn't take long.
The lawns and garden are so beautiful
in Johnson County.
A georgeous mass of Pink bushes
caught my eye.
After that it seemed like everything I saw
was Pink.
And, of course all the flowers down the Boulevard
opened up Pink this morning.
Today I was suposed to see Pink.
The next big mass of color I saw
was a circle of flowers about 20 feet in diameter.
A thick border of low lying Pink flowers made the circle.
They were framed from behind by a tall purple flower.
Maybe a sage of some kind.
I dove by them several times
just so I could savor their beauty.
Next, I reached the Plaza.
The huge hanging baskets were awesome.
It seemed like hundreds of them,
all shades of Pink and any other color that
made the pink stand out.
The sidewalks were lined,
and the lamp posts were hung.
There were flowers everywhere.
Pink flowers no less.
What a sight to behold.
The hospital is on the hill.
Maybe I can brighten Harold's day
because of Pink.
I used to think Red and White made Pink
until I learned to see.
I now can also find Yellow, Blue and Green
in Pink.
WOW!
What fun it is to see.
When I see Pink I see,
warm, soft comfy, beautiful Pinks
very light with touches of yellow.
Bold, rich, deep Burgandy Pinks
with cool tints and warm accents,
a feeling of drama and sophistication, create beautiful memories.
The day ended with a beautiful surprise.
The sky was full of clouds,
soft Pink clouds.
Today, I was supposed to see Pink.
Thank you God for such beauty.


Mary Jo Leisure, June 15, 2007
---
Scroll To Top

Mary Jo Leisure
103 E. 6th St.
Pleasanton, KS 66075
Phone: (913) 352-6706
E-Mail: mjleisure@ckt.net
[ Home ] [ Shop ] [Order Status] [ Search ] [ View Cart ]
[ Shipping Terms ] [ Privacy Policy ] [ CHECKOUT ]