Diary of a Painter Archives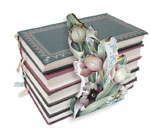 Painting is an expression of one's feelings. It can take you to another place at another time. Art comes from your heart, mind and soul. I hope you will enjoy reading My Diary of a Painter. I write periodically so I hope you will visit often My desire is for you to feel and experience the inspiration that is all around you.
Pretty in A Peaceful Way
Yesterday Harold and I headed for Topeka
It was early, gray and foggy.
But, pretty in a peaceful way.
We passed Clinton Lake and it was
white against a white sky.
Still pretty in a peaceful way.
The day became brighter as we arrived in Topeka.
The forsythia, the redbuds, the tulips
and the Bradford Pear Trees were everywhere.
The smell of fresh mowed grass
and all the beautiful green.
As we headed home the color stood out more
and we were warmed by the sun.
We passed the same lake.
It had a different color and feeling.
Still pretty in a peaceful way.
The water was a beautiful blue green
and the baby blue sky was dotted with white clouds.
What a powerful God we have
when we look around and see His creation.
Everything can change in a minutes notice
by His command.
As we drove on there were Weeping Willows
with long skinny yellow green branches.
Their graceful movement
took my breath.
It felt like they were dancing.
I've always wanted a Weeping Willow Tree.
I love having this graceful movement
in my paintings.
Then we passed grove of trees.
Redbuds and Wild Plum trees sprinkled throughout.
It was like the color was pulling us in.
What a beautiful discovery.
Redbuds and more redbuds,
Their gnaraly trunk and branches
had so much wonderful movement.
To discover brings excitement and joy.
The unexpected
is like a mystery that unfolds.
Can we grasp all of this in our painting?
Of course we can
If we open our eyes and use our imagination.
I am storing everying thing I saw and felt today
because I may need it in my painting tomorrow.
At the end of the day,
when we drove in to our driveway,
I discovered my lilacs were starting to bloom.
They weren't there when we left
but tomorrow there will be many more blooming.
When we left early in the morning
I hoped to be inspired.
I was.
By His Command.
Mary Jo Leisure, March 29, 2007
---
Scroll To Top

Mary Jo Leisure
103 E. 6th St.
Pleasanton, KS 66075
Phone: (913) 352-6706
E-Mail: mjleisure@ckt.net
[ Home ] [ Shop ] [Order Status] [ Search ] [ View Cart ]
[ Shipping Terms ] [ Privacy Policy ] [ CHECKOUT ]