Diary of a Painter Archives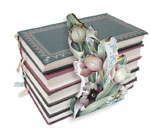 Painting is an expression of one's feelings. It can take you to another place at another time. Art comes from your heart, mind and soul. I hope you will enjoy reading My Diary of a Painter. I write periodically so I hope you will visit often My desire is for you to feel and experience the inspiration that is all around you.
It's Hot, It's Beautiful, It's Hot
It's hot, it's beautiful, it's hot
The sun is shining, the birds are in the birdbath
the flowers are smiling.
I just gave them a big drink of water.
What a good feeling, relaxing, looking out the window
and reflecting on the past week.
Kerry Smith and I taught a seminar together at Cedar Crest.
She did 3 days and I did 3 days.
Her project was so soft and beautiful
an antique pitcher full of iced lemonade,
lemons, and a wonderful checkered tablecovering.
We were tucked in a cool studio, wonderful food,
and if you wished, a daily walk in the garden.
Decorative painting is loved around the world.
They came this week from ...
Texas, Florida, Indiana, Japan,
Illinois, Michigan and Kansas.
Several headed on for another week of painting at Hoot.
Painting friends love gathering together;
enjoy sharing with one another,
building lifetime friendships
and continue growing in their painting skills.
Wow!
Isn't it wonderful to be surrounded by this art form.
I am inspired and ready to get the
paintbrush out again.



(I will post pictures from this class in "Keeping in Contact"

Mary Jo Leisure, August 12, 2007
---
Scroll To Top

Mary Jo Leisure
103 E. 6th St.
Pleasanton, KS 66075
Phone: (913) 352-6706
E-Mail: mjleisure@ckt.net
[ Home ] [ Shop ] [Order Status] [ Search ] [ View Cart ]
[ Shipping Terms ] [ Privacy Policy ] [ CHECKOUT ]