Diary of a Painter Archives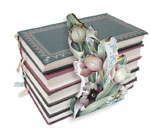 Painting is an expression of one's feelings. It can take you to another place at another time. Art comes from your heart, mind and soul. I hope you will enjoy reading My Diary of a Painter. I write periodically so I hope you will visit often My desire is for you to feel and experience the inspiration that is all around you.
Today Seemed to be Wrapped in Green
Today seemed to be wrapped in Green.
Green that was
more than Green...
Textures, Intensities,
Temperatures, values, shapes.
The trees were so full with
color and movement,
yellow greens, blue greens, dark greens, light greens,
and everything in between.
Lawns looked like carpet,
smooth, soft like velvet and vibrant.
Then some landscapes with Prarie Grasses
tall and with texture.
Leaves on bushes, trees and plants
all shapes and sizes.
All my senses were affected.
I love to smell a newly mowed lawn,
and to hear the rustle of leaves in the breeze,
to feel the touch of the grass
through my toes,
to see a hillside full of trees of many greens,
and to taste a cup of Green Tea
with my friends.
My passion with the paint brush
is adding green to my painting.
Green is a symbol of life.
Can you imagine a rose without green leaves,
or a strawberry without a green bract
or a flower without a green stem.
Green speaks to me with excitement,
always ready to say hello.


Mary Jo Leisure, May 23, 2008
---
Scroll To Top

Mary Jo Leisure
103 E. 6th St.
Pleasanton, KS 66075
Phone: (913) 352-6706
E-Mail: mjleisure@ckt.net
[ Home ] [ Shop ] [Order Status] [ Search ] [ View Cart ]
[ Shipping Terms ] [ Privacy Policy ] [ CHECKOUT ]