Diary of a Painter Archives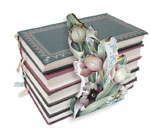 Painting is an expression of one's feelings. It can take you to another place at another time. Art comes from your heart, mind and soul. I hope you will enjoy reading My Diary of a Painter. I write periodically so I hope you will visit often My desire is for you to feel and experience the inspiration that is all around you.
The Sun Is Shining
The sun is shining so beautifully this morning.
Itís time for my second cup
And I am daydreaming.
What will today bring. The grass is green and
The birds are singing.
My, how I love that. On the table lays a design I did
Several days ago. Grapes and daisies hanging gracefully
Winding around one another.
The lines are moving.
It looks different this morning; still good to me
But different.
New ideas for forming. The ideas are growing.
Why!! I donít know.
Itís feelings. I love the roaming, searching, finding.
I love the movement.
A magazine lays near by. As I go through it again,
After many times,
I see something new.
I have so many paper clipped pages.
WOW !!
Where do I go next? I am grabbing the paper and pencils!
Mary Jo Leisure, June 21, 2006
---
Scroll To Top

Mary Jo Leisure
103 E. 6th St.
Pleasanton, KS 66075
Phone: (913) 352-6706
E-Mail: mjleisure@ckt.net
[ Home ] [ Shop ] [Order Status] [ Search ] [ View Cart ]
[ Shipping Terms ] [ Privacy Policy ] [ CHECKOUT ]