Diary of a Painter Archives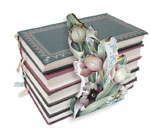 Painting is an expression of one's feelings. It can take you to another place at another time. Art comes from your heart, mind and soul. I hope you will enjoy reading My Diary of a Painter. I write periodically so I hope you will visit often My desire is for you to feel and experience the inspiration that is all around you.
Gardens By The Wayside
Today is another beautiful day.
I woke up to the birds singing
even before the sun came up.
Then drifted back to sleep
thinking about my day.
As I again headed out on my daily trip to Kansas City
I grabbed my camera
and planned my route.
That was really important
because I wanted to take in the
Gardens by the Wayside.
I wonder how many people
pass them by
and never even see them.
The Crown Vetch
as it drapes over and cascades down the rocks
showing off its beautiful lavender flowers.
The bright orange old fashion day lilies,
filling the ditches and hugging the fences.
The pink and red wild roses
climbing up trees and fences
where homes used to be.
Beautiful Queen Ann's Lace,
just beginning to show her color and her grace,
as she sways in the wind.
She is white with lacy flowers.
Lavender, orange, pink, red and white,
a variety of colors and shapes,
ready to be captured and loved
by those who
See
and feel their beauty;
Enjoy
their free style;
Feel
the romance of their legacy.
They are all part of the
Gardens by the Wayside.
Tomorrow on my daily trip to Kansas City
I may find a new flower
in the Gardens by the Wayside.
The gardens I see when I close my eyes
and remember.
I know the feeling will touch my next
design and painting.
I thank God for sharpening my senses,
showing me love and beauty,
and he desire to share it.
Mary Jo Leisure, June 8, 2007
---
Scroll To Top

Mary Jo Leisure
103 E. 6th St.
Pleasanton, KS 66075
Phone: (913) 352-6706
E-Mail: mjleisure@ckt.net
[ Home ] [ Shop ] [Order Status] [ Search ] [ View Cart ]
[ Shipping Terms ] [ Privacy Policy ] [ CHECKOUT ]