Diary of a Painter Archives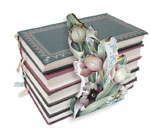 Painting is an expression of one's feelings. It can take you to another place at another time. Art comes from your heart, mind and soul. I hope you will enjoy reading My Diary of a Painter. I write periodically so I hope you will visit often My desire is for you to feel and experience the inspiration that is all around you.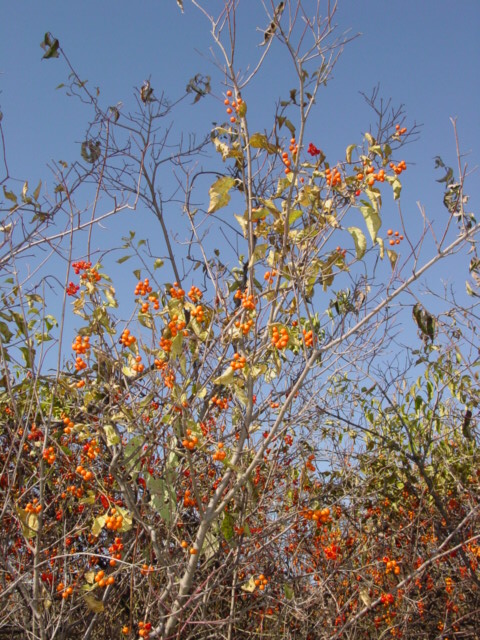 I Hit A Goldmine
I got in the car
and headed north
on my way again
to spend time with Harold.
My car knows the way by heart.
It was a beautiful fall day.
Blue sky and sunshine.
Color every direction you looked.
For some reason
I decided to change my route
and went the last 10 miles
on the county road.
I hit a gold mine.
An orange gold mine.
Miles of bittersweet all along the roadside..
I slowed down...
I stopped...
I got out and took pictures...
But I couldn't get across the ditch to pick any
of the striking berries.
They were so thick and beautiful
growing to the top of the trees,
hanging on fence posts and barbwire
even draped over bushes.
It didn't look like they had been picked in years.
Thick beautiful orange berries
and bright yellow green leaves.
I took picture upon picture.
What beautiful fill-ins the
bittersweet would make in a painting.
The way it twists and twines as it crawls about
grabbing whatever is close by.
Maybe that is why I like it so.
The movement,
the grace,
the color.
Feast your eyes now
becuase it won't return again
until this same time next year.
I'll be sure to take this road again.

Mary Jo Leisure, October 29, 2008
---
Scroll To Top

Mary Jo Leisure
103 E. 6th St.
Pleasanton, KS 66075
Phone: (913) 352-6706
E-Mail: mjleisure@ckt.net
[ Home ] [ Shop ] [Order Status] [ Search ] [ View Cart ]
[ Shipping Terms ] [ Privacy Policy ] [ CHECKOUT ]