Diary of a Painter Archives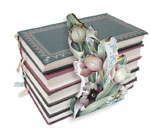 Painting is an expression of one's feelings. It can take you to another place at another time. Art comes from your heart, mind and soul. I hope you will enjoy reading My Diary of a Painter. I write periodically so I hope you will visit often My desire is for you to feel and experience the inspiration that is all around you.
I Have an Angel, I Have an Idea
As I sit here in the quiet evening
surrounded by the greenery, lights, and nativities,
every view reminds me of the beauty and reason
of this season.
The greatest gift of all, Our Lord and Savior,
came to earth as a baby boy.
I grew up knowing this
and over the years growing to love Him more.
Hearing and feeling
the soft music of Christmas
and being thankful for my many blessings,
gives me an indescribable peace.

Inspiration comes in many forms,
what we see, what we feel, what we hear,
and maybe even combinations.
I have an angel, I have and idea, and
I am ready for the drawing board.
It won't stop there.
I am so thankful for that desire.

A little earlier this evening
I watched a tour on TV of the White House Christmas.
It was beautiful, and
I was flooded with memories.
I spent several years designing and helping
decorate a tree at the Smithsonian,
representing the SDP.
There were hundreds of ornaments
designed by decorative painters that were
hung and displayed on those trees.
There were toys designed and painted
under one of the trees.
They were fabulous, one of a kind.

In my minds eye I can see one so clear,
a wooden doll about 30 inches tall
designed and painted by my dear friend, the late Joan Johnson.
The dolls face was a portrait of her granddaughter.
All of these paintings are still a part of
the Smithsonian Collection.
At that time decorative painting became
a recorded part of our nation's history.

It's late, but I am ready to begin.
I have an angel, I have an idea.


Mary Jo Leisure, December 11, 2006
---
Scroll To Top

Mary Jo Leisure
103 E. 6th St.
Pleasanton, KS 66075
Phone: (913) 352-6706
E-Mail: mjleisure@ckt.net
[ Home ] [ Shop ] [Order Status] [ Search ] [ View Cart ]
[ Shipping Terms ] [ Privacy Policy ] [ CHECKOUT ]