Diary of a Painter Archives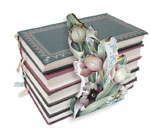 Painting is an expression of one's feelings. It can take you to another place at another time. Art comes from your heart, mind and soul. I hope you will enjoy reading My Diary of a Painter. I write periodically so I hope you will visit often My desire is for you to feel and experience the inspiration that is all around you.
Have You Ever....................
Have you ever tried to count how many colors you saw in a day?
What a challenge.
Have you ever tried to see what lines caught you eye?
Have you ever asked yourself what you saw first and why?
Have you ever looked at a tree and saw something different?
Have you ever read something that made you think of something else?
Have you ever heard a song that reminded you of another place
and another time?
Have you ever smelled something cooking that reminded you
of someone special?
Do you ever go back to look at something again?
Why?
Does it look different the second time?
What sights and sounds make you feel good?
There is beauty all around us
even when the day is gray.
Look to see.
Listen to hear.
Touch to feel.
Mary Jo Leisure, May 24, 2008
---
Scroll To Top

Mary Jo Leisure
103 E. 6th St.
Pleasanton, KS 66075
Phone: (913) 352-6706
E-Mail: mjleisure@ckt.net
[ Home ] [ Shop ] [Order Status] [ Search ] [ View Cart ]
[ Shipping Terms ] [ Privacy Policy ] [ CHECKOUT ]