Diary of a Painter Archives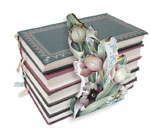 Painting is an expression of one's feelings. It can take you to another place at another time. Art comes from your heart, mind and soul. I hope you will enjoy reading My Diary of a Painter. I write periodically so I hope you will visit often My desire is for you to feel and experience the inspiration that is all around you.
My Imagination has a Jump Start
It's warm, it's beautiful,
It's over 70 degrees, and the sun is shining.
Today as I walked through the yard
I discovered yellow daffodils
blooming next to the shed.
The first color of spring.
God planed for the first color of spring to be exciting,
warm and inviting.
There were at least a dozen flowers
with buds galore.
When I walked out to the mail box
there was a beautiful yellow envelope
postmarked from Texas
with handwritten words of encouragement.
God knew what I needed today.
My mind is swirling with yellow.
How do I describe yellow?
Bright, sunshine, smiles,
excitement, happy, warm,
moon, pale, lemonade,
dandelions, lemons, grapefruit,and bananas
sunrise, gold. sunflowers,
brass, canary, forsythia,
butter, mustard,
goldenrod, baby chicks
and daffodils.
My imagination has a jump start
not only with color
with many values and temperatures
but also shape and combinations.
It all started as I walked through the yard.
Inspiration for a painter
comes in many forms and in many places.
I'll be checking on new color everyday.
Be ready to discover.

Mary Jo Leisure, March 12, 2007
---
Scroll To Top

Mary Jo Leisure
103 E. 6th St.
Pleasanton, KS 66075
Phone: (913) 352-6706
E-Mail: mjleisure@ckt.net
[ Home ] [ Shop ] [Order Status] [ Search ] [ View Cart ]
[ Shipping Terms ] [ Privacy Policy ] [ CHECKOUT ]