Diary of a Painter Archives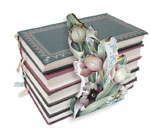 Painting is an expression of one's feelings. It can take you to another place at another time. Art comes from your heart, mind and soul. I hope you will enjoy reading My Diary of a Painter. I write periodically so I hope you will visit often My desire is for you to feel and experience the inspiration that is all around you.

Enjoying The Challenge
I have been looking at this frame for months now.
I loved it when I bought it
and I still love it.
Today, I am ready to put a painting in it
June 15, 2009
I got my paints and brushes out
and have prepared the background
I plan to use.
The original color of the frame
was my guide.
I liked the background I just finished,
until I put them together.
The temperature was wrong.
They fought one another.
I knew it.
I felt it.
I rubbed some warm green into my background,
but it wasn't enough.
I put the frame away for now
concentrating on my design.
My plan was roses and something else.
As I worked my subject grew.
Now it was Roses, Hydrangeas, Grapes, Limes
and Leaves.
After the first stage of the painting was done
it still didn't work
with the color of the frame.
Easy enough...
I will change the color of the frame.
I decided to wait another day and look at it again.
The next day I liked the frame just as it was.
I love adding the details.
Everything comes alive,
a touch here and another there,
add, take away,
don't be afraid to change,
listen to your feelings,
and
enjoy the journey.
It may even change again.
Another Day...
I have added more to the design,
a better balance.
It is getting better.
It helps to put it down and
come back with a fresh look,
particularly on this large of a painting.
You see more.
You feel more.
It is still a wonderful challenge.
August 24, 2009
It has been a while now since I have worked on this piece.
The wedding was coming closer
and I needed to work more hours in my gardens.
Amber's reception was to be in my yard.
The wedding is over.
Everything was beautiful,
and now
it is back to my painting.
I finished the quilt block
I promised to Hoot.
Now, again,
it is back to my frame,
the one I set aside.
Today was a great day.
I finished the detail
and with another long look
I decided on something different.
I love the touch of realism..
so, do I set my painting on a surface?
I also love the decorative look...
How do I make it unique and decorative?
The line work and movement I love so much
was the answer.
Take a look and you will see what I mean.
The movement and shape continue to be stronger
with each decorative line,
with each touch of the brush.
I will take another look tomorrow.
It may change again
when I take a fresh look.
Mary Jo Leisure, June 15,....August 24, 2009
---
Scroll To Top

Mary Jo Leisure
103 E. 6th St.
Pleasanton, KS 66075
Phone: (913) 352-6706
E-Mail: mjleisure@ckt.net
[ Home ] [ Shop ] [Order Status] [ Search ] [ View Cart ]
[ Shipping Terms ] [ Privacy Policy ] [ CHECKOUT ]