Welcome
Welcome to my website. It has undergone a "facelift", but I am sure that you will recognize some of your favorite things! Take a moment to browse. We have added a new gallery showcasing a few of the pieces that were on display at the National Museum of Decorative Painting 2014 Exhibit, A Painted Garden.

Thanks to those of you who followed me with my Twelve Months of Roses last year. The giclees are posted in the Gallery so you see them all together. They were limited and are no longer available for purchase.

Birthday Garden Party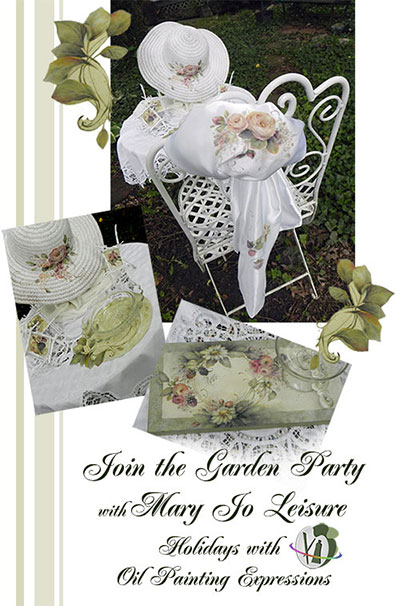 Celebrate the Holidays with Oil Painting Expressions with eleven accomplished artists from around the globe. Click on this
link
find out more about all of the holidays represented in this new session of Oil Painting Expressions.
I am presenting a Birthday Garden Party. Painted on multiple surfaces, the daisies, roses, blackberries and leaves make the celebration a truly memorable one.
The classes begin July 27, 2015. The lesson format includes Video clips/Slideshows and Tutorials(pdf files), and the class files are fully accessible through July 1, 2016.

The roster of teachers include Trudy Beard-Lazaroe, Robyn Brooks (Australia), Jeanne Downing, Mary McLean, Rika Muramatsu (Japan), Pat Parker, Nilda Rodriguez, Cheri Rol, Shirley Nan Ruchong, Patsy Schultis and myself.
Click on the button to find out more, and then sign up for 12 lessons full of learning and holiday fun!


Take Time to Smell the Roses DVD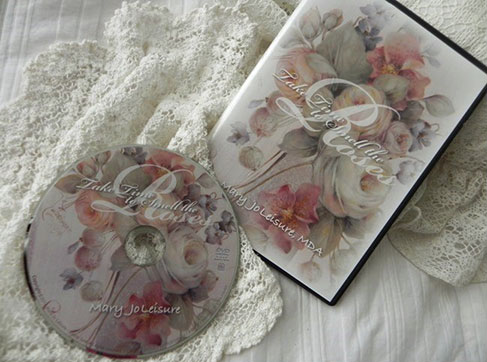 Take Time to Smell the Roses
, is a new DVD, just released at the SDP Conference, all about my Decorative Art lifestyle. Take a tour of my home, see how I use my artwork, not only as decorative pieces, but functional ones as well. There is also a lesson on how to paint roses, leaves, violets, gooseberries, blossoms, and line work. So won't you please join me and
Take Time to Smell the Roses
?
The DVD is approximately 90 minutes in length and sells for $45.00 plus shipping and handling. It can be ordered from the shop. If you pre-ordered the DVD, I will be sending you a PayPal invoice reflecting the price plus shipping. Once I receive confirmation of your purchase from PayPal, I will send you the DVD.


I am looking forward to sharing my lifestyle with you, and hoping it will inspire you to develop your own Decorative Art lifestyle. Take a peek below at what is in store for you....
Dancing in the Garden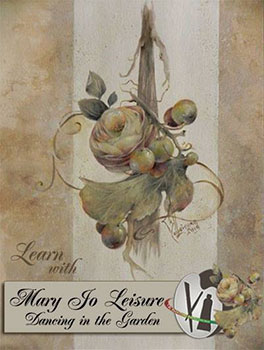 Oil Painting Expressions, OPE, is an online class with 11 beautiful teachers. This is the project I am teaching "Dancing in the Garden". I hope you will consider giving yourself a gift that will last a lifetime. Check out the course by clicking on this link.
https://www.e-junkie.com/ecom/gb.php?cl=283890&c=ib&aff=269283
.
One of the many highlights of these video lessons is that you can continue going back as many times as you need or want, to reinforce what you heard and what you saw, for almost a year. I wanted to remind you of the wonderful opportunity for you to be apart of this series of online classes with 12 wonderful projects taught by 11 different teachers for only $99.00.
The roster of incredible teachers include Arlene Beck, Robyn Brooks (Australia), Dorothy Dent, Jeanne Downing, Mary Jo Leisure, Rika Muramatsu (Japan), Pat Parker, Nilda Rodriguez, Cheri Rol, Shirley Nan Ruchong, and Patsy Schultis.

Join us today and paint along. You haven't missed anything. All the lessons are available to you 24/7 until January 1, 2016.
Take Time to Smell the Roses Trailer
Take Time to Smell The Roses produced by r.goope.jp/sunnyspot

Mary Jo Leisure
103 E. 6th St.
Pleasanton, KS 66075
Phone: (913) 352-6706
E-Mail: MJL@MaryJoLeisure.com
[ Home ] [ Shop ] [Order Status] [ Search ] [ View Cart ]
[ Shipping Terms ] [ Privacy Policy ] [ CHECKOUT ]