Welcome

Welcome to my website. So glad you have come to visit. Please feel free to open each window and enjoy. You still can enjrole in the Birthday Garden Party which is only one of the wonderful lessons being offered in Oil Paintin Expressions If you have any questions please email me at mjleisure@ckt.net. There are 11 lessons total in this series of Holidays with OPE 2. Check it out with the information below.
Birthday Garden Party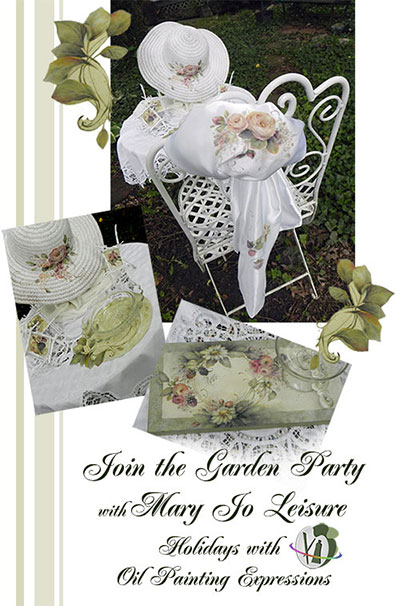 Celebrate the Holidays with Oil Painting Expressions with eleven accomplished artists from around the globe. Click on this
link
find out more about all of the holidays represented in this new session of Oil Painting Expressions.
I am presenting a Birthday Garden Party. Painted on multiple surfaces, the daisies, roses, blackberries and leaves make the celebration a truly memorable one.
The classes begin July 27, 2015. The lesson format includes Video clips/Slideshows and Tutorials(pdf files), and the class files are fully accessible through July 1, 2016.

The roster of teachers include Trudy Beard-Lazaroe, Robyn Brooks (Australia), Jeanne Downing, Mary McLean, Rika Muramatsu (Japan), Pat Parker, Nilda Rodriguez, Cheri Rol, Shirley Nan Ruchong, Patsy Schultis and myself.
Click on the button to find out more, and then sign up for 12 lessons full of learning and holiday fun!


Winter White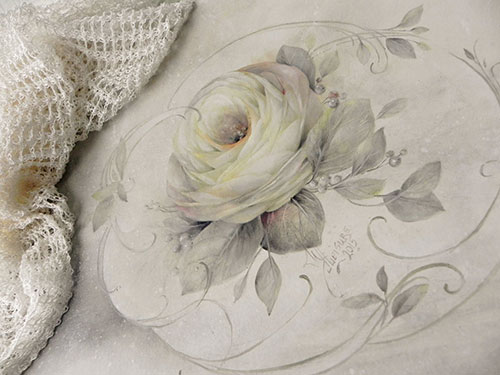 The OPE Season just launched. "Winter White" is the project I will be teaching in this series. It you have not joined an on line class yet I would like to encourage you to this exciting experience. It is a great opportunity to study with 10 excellent teachers and you can go back again and again as many times as you want...watch the video .... study specific areas of difficulty until Feb. 2017. Wonderful projects but best of all are the great learning techniques to help you build your skills. The cost is only $99.00. Check the following link for more information. Ask questions. Would love to have you join us.
www.oilpaintingexpressions.com>
Take Time to Smell the Roses Trailer
Take Time to Smell The Roses produced by r.goope.jp/sunnyspot

Mary Jo Leisure
103 E. 6th St.
Pleasanton, KS 66075
Phone: (913) 352-6706
E-Mail: MJL@MaryJoLeisure.com
[ Home ] [ Shop ] [Order Status] [ Search ] [ View Cart ]
[ Shipping Terms ] [ Privacy Policy ] [ CHECKOUT ]